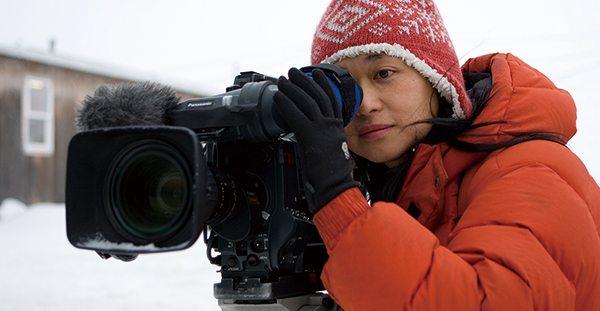 KANA Tomoko was born in Tokyo in 1971. She became interested in the documentary when she was a university student and appeared on the television documentary program directed by KORE-EDA Hirozaku ( "Nobody Knows" and "Shoplifters").
After graduating university, she started her career as a news producer at Japan's public broadcaster, NHK, and went independent in 2000. In 2004, she directed a documentary "From the Land of Bitter Tears"(2004) and won the Japan Journalist Congress award and International Festival of Audiovisual Programs (FRANCE). In 2007, she won the Sundance/NHK International Filmmakers Award at the Sundance Film Festival with her first screenplay of a narrative film, "Two by the River", an award given to outstanding writers. The script was selected for European Audio Visual Entrepreneurs' Ties That Bind – Asia Europe Producers Co-production Workshop 2012 and participated Busan International Film Festival Asian Project Market.
In 2009, she completed "Beautiful Islands ~Memoirs of Sinking Islands~", a feature documentary about three beautiful islands effected by Climate Change- Tuvalu in South Pacific, Venice in Italy and Shishmaref in Alaska. After a world premiere at Busan International Film Festival 2009, winning Asian Cinema Fund AND award, the film opened in theaters in US and Japan in summer 2010.
An oscar-nominated "The Twilight Samurai" (Tasogare Seibei) director YAMADA Yoji served as executive producer for, "IWASAKI CHIHIRO" (2012), a feature documentary on the unbeknown love and passionate life of Japan's most reputed pot-war female artist. The film opened nation wide in Japan in summer 2012.
In 2016 "A Lullaby Under the Nuclear Sky" opened in theaters in Japan and participated in numerous film festivals. An international co-production project with Korean KBS TV, "The Two Directors: A Flame in Silence" was world premiered in BIFF 2015. A short documentary "A Story on the Shore"was world premiered at Short Shorts International Film Festival 2019. Alsoin 2021 she completed a documentary for three themes from SDGs,
"Wonderland". Her latest film "A Picture Book" was selected for the 77thVenice International Film Festival "Venice Production Bridge" and now in development. In 2022, she attended Columbia University in NY on a Fulbright Scholarship.
For the complete work list, please download the company catalogue.
She has been involved in numerous environmental activities since she was a student, including participation in forestation projects and processes related to Earth Summit (1992).